Posts Tagged 'Tate Modern'
Wednesday, November 11th, 2009
Tuesday, October 27th, 2009
One of my Self(ish) Characters will be featured in the DIY WOMP and Raw Canvas Tate Takeover this halloween. Details below:
RAW CANVAS with DIY WOMP and COCHANGO are proud to present to you-
"HALLOWEEN AT TATE MODERN!" (Free Entry)
A spine chilling night to showcase the best young creative minds in the London area.
Expect to see;
1) Artists exhibiting work in various form incl huge sculpture.
2) Live acoustic music from some of the best amateur musicians out there today.
*****INCLUDING******
Spy Catcher (http://www.myspace.com/spycatchers)
Spy Catcher, just three months old and already sounding like a prospect. These boys have form – frontman Steve Sears was formerly in Cry For Silence and bassist Stuart Gili-Ross is better known for his day job in Gallows – so it's little wonder they sound sharp and sussed already… combining the low end swagger of QOTSA with the tunefulness of Rival Schools. Go see. Now."
Paul Brannigan – KERRANG! Magazine
Thee Single Spy (http://www.myspace.com/theesinglespy)
"Thee Single Spy layer rich, melodic baroque-indie lushness over intricate lyrical creations."
AAT MAGAZINE
The Cellar Door Sound (http://www.myspace.com/thecellardoorsound)
"The Cellar Door Sound … In the shape of 20 year old Daniel Cross and various collaborators inhabit a world of their own. Echoing; the vocal intensity of Robert Smith, the musical simplicity of Tyrannosaurus Rex, and the lyrical honesty of Syd Barrett. Recent BBC London Calling artist of the week they have been described as "more black treacle than pop by numbers". " – BBC, London Calling
Oddyssey ( Formerly Rosie Oddie and The Odd Squad)
http://www.myspace.com/rosieoddieandtheoddsquad
and the Amazing, The Spooky………
THE ROUNDHOUSE EXPERIMENTAL CHOIR!
3) Live illustration from some very clever people happening before your eyes.
4) Films screened via projectors to intrigue and spook you.
5) Special guests
6) Fancy Dress (optional)
7) Suprises
You can check out DIY WOMP at they're website by clicking on the image below, and whilst your there join up!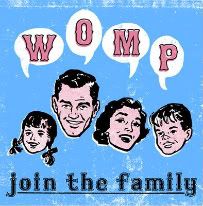 Or you can add them on Facebook or if your still stuck in 2004 Myspace.